PREPARATION:
Valid residence card (在留カード)
Compatible devices: International edition smartphones, unlocked carrier phones. Or a Docomo's sim-lock version smartphone (which only Docomo sims can use)

NOTE: If your device is AU or Softbank locked, you will need to unlock your device or upgrade it to the international version. Please go to the carrier's stores to have your phone unlocked/upgraded to the international version in order to use our SIM. Please note that dual SIM (using 2 sims on 1 device) is not supported with JP SMART SIM.
PROCESS TO APPLY
STEP 1.1: PLAN SELECTION
Go to our Home Page JP SMART CALL
Then click on the APPLY NOW button to access the Application Form


After clicking, the screen will be directed to the application form below.

STEP 1.2: ACCOUNT REGISTRATION FOR MYPAGE
Next, proceed to input a valid email and create a password for the JP SMART SIM user account.


NOTE: Each email corresponds to a user ID, so you need to enter a real e-mail address to receive important contract information about costs, as well as make modifications of personal information during the time of using the service.

Cannot use one email twice.





When you have completed the 2 fields, please click the red box

[I agree with the above and register my account]

to proceed to Step 2.
STEP 2: INPUT REGISTRATION DETAILS
At this step, you need to input the required personal information to create an online service contract.
STEP 3: REGISTER YOUR SHIPPING ADDRESS
Select [Input your address] and input the required information follow the registered address on your Residence Card:

1. Prefecture

Exp:

- Tokyo-to

- Saitama-ken

- Kyoto-fu

2. City, Ward

Exp:

- Toshima City, Minami Otsuka

- Saitama City, Minami Ward, Uchiya

- Kyoto City, Shimogyo ward, Chudoji Awatacho

3. Ban-chome number (Numbers that locate your living area block)

Exp: 1Chome-2-3/93番

4. Building name/Nameplate of home's postal box

Exp:

- Building name: Kyoto Research Park Building

- Nameplate of home's postal box: Suzuki

5. Room number (if any)

Exp: 102/Room 102
If you do not know the postal number, you can use the Google Map tool to look up the postal number from the address as shown below.
Input the address in the search box, after clicking on the "magnifying glass" symbol the results will be displayed below the information box below. Postage numbers are 7 digits, separated by a hyphen.

NOTE: Addresses need to be entered accurately and in detail. Since this will be the address we send the SIM to, if there is a move or missing address result in the SIM lost, you will be solely responsible.


After successfully inputting the address, please select your preferred Delivery Time and go to the next step.
STEP 4: UPLOAD THE IDENTITY VERIFICATION DOCUMENTS
For photos of identity verification documents, you can choose to upload your photo of『Residence Card (front)』and『Residence Card (back)』 by clicking on the [Choose File] box.
NOTE:

『Residence Card』 valid for more than 30 days.
The personal information on the『Residence Card 』must match the『 Customer Information 』entered in the application form.
Uploaded images must display the entire image page, must not be angled cut, blurred, light-reflection, or otherwise corrected.
STEP 5: SELECT PAYMENT METHOD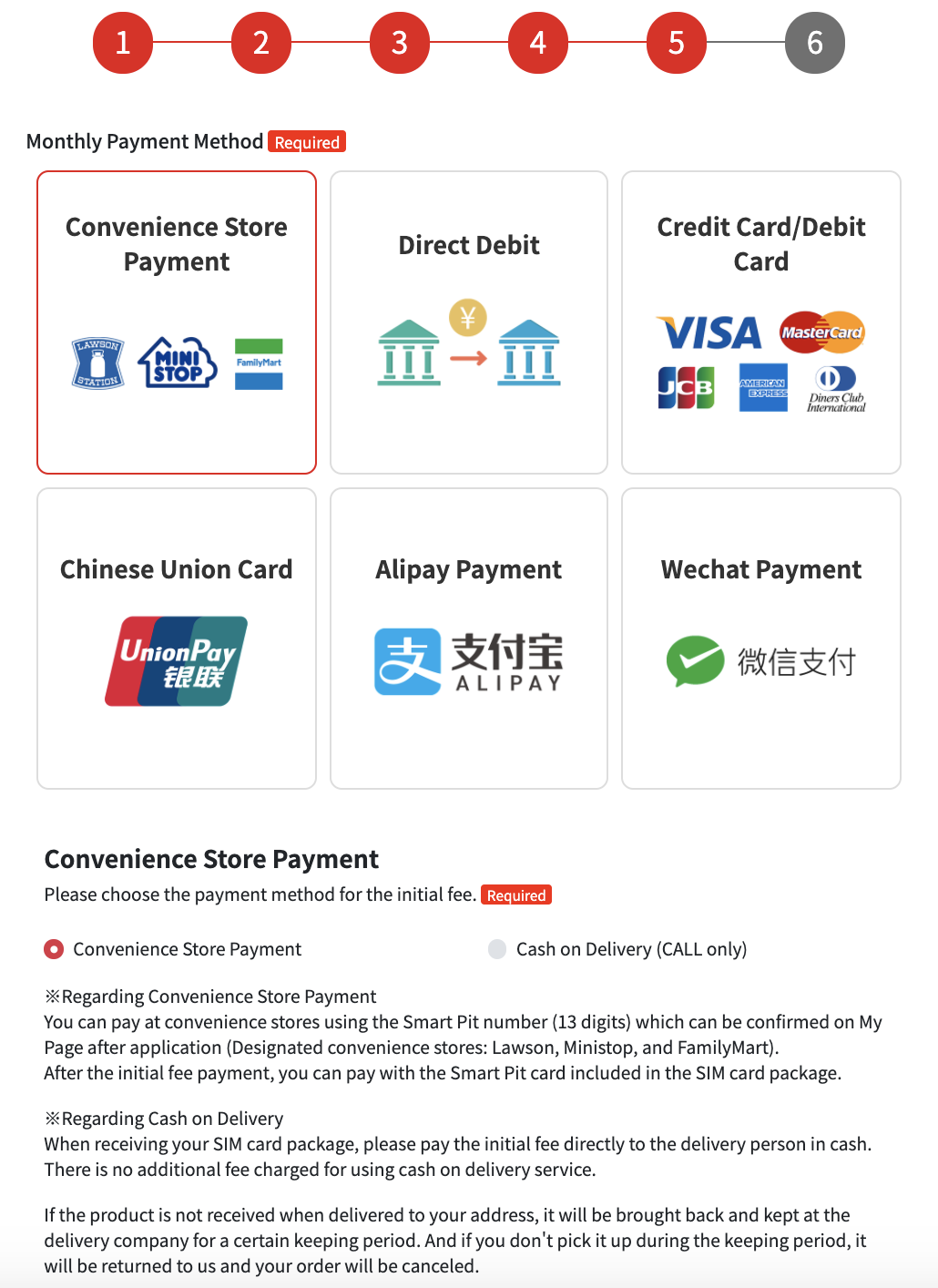 Initial payment method selection is subject to change after receiving the SIM card.
Recommended Payment Method:『Convenience Store Payment』

Reasons:

Many of us do not have a credit card or bank account.
Convenient stores are available everywhere in Japan.
It is cash-based so you will be able to manage personal finance better.

After completing the online application form, you can make the initial payment transaction at Family Mart, Lawson, and Ministop nationwide 24-hour convenience stores by a special payment code called: "Smart Pit Number"
(Currently, payment at 7-Eleven is not supported yet. Please notice.)
NOTE:
CALL SIM now supports cash on delivery as one of the payment methods for the initial fee. You can pay the initial fee in cash to the delivery person when the SIM card package arrives. There is no extra charge for COD service required.
The monthly fee will have to be paid by Smart Pit card or Direct Debit, so please refer to Payment Method at the JP SMART SIM official website.

If you choose Direct Debit, you need to register your bank account after completing the order and the initial payment.

Payment by manual bank transfer via cash card is not available.
If you choose to pay with 『Credit Card ・ Debit Card』:

When entering your credit card information for the name of the cardholder, all letters have to be CAPITALIZED, and space between your name is not allowed.

Exp: your full name is BENARD ALEXANDER LEE. Please delete the space and input like the following:

Last Name: LEE

First Name: BENARDALEXANDER

Phone number: Please input a valid number (The international number is acceptable with country code)

Security code (3-4 digit number):

- Visa, JCB, MasterCard: 3 numbers in the back.
- American Express: 4 numbers in the front.

If you still cannot complete your payment with your credit card, please consider changing to other payment methods such as Convenience Store, which you can easily pay at convenience stores with cash.
STEP 6: CONFIRM CUSTOMER INFORMATION
Please check to see whether all the information you provided is correct.
If not, CLICK on this item to edit properly.

[Return to Enter Information]
[Return to Plan Selection]
[Return to Payment Method Selection]


At the same time, you can also confirm the amount to be paid initially, as well as the basic fee of the second month

(Basic cost of the first month is free according to the promotion)

:
- The first payment (included 3,300 yen administration fee)
- Basic fee to be paid for the following months (estimated)
After confirming that all information is correct, please scroll down to the bottom of the page and

read the [Important Notice before Usage] and [Contract details] carefully until the end.



All the important info regarding monthly fee calculation, internet connection, contract termination, etc is written clearly in this path. Please make sure that you understood and agreed with our service Terms before applying.


Check on the "I agree with this contract" box then click on the [Apply] button to complete the online contract setting using JP SMART SIM service.
STEP 7: CONFIRM YOUR SMART PIT CODE AND PROCEED TO INITIAL PAYMENT
After completing six steps of online contract registration, you will receive an email notification confirming initial registration information and will be redirected to the MYPAGE screen (for JP SMART SIM users) as below.

On this page, please confirm your Payment Details, Due date, and Smart Pit No.
Please take a screenshot or note this number.
Once you have noted the Smart Pit number, click on the box [ DETAIL OF PAYMENT METHOD] to be directed to the Payment Method at JP SMART SIM official website.
If you have not paid by the due date, the invoice will be expired and the Smart Pit code cannot be found anymore. In this case, please inbox for JP SMART SIM Fanpage for supports.

This is a page with instructions on how to make a convenience store payment. Scroll down, follow the instructions with the Smart Pit number, you can complete the first payment for JP Smart SIM.
CONFIRM YOUR ONLINE APPLICATION AND PROCEED TO DELIVER
Once we have confirmed that you have completed making the initial payment, uploaded a photo of your Identity Document as well as a valid shipping address in the online application form successfully, the SIM package will be delivered to your address within 2 days at the shortest by Yamato Transport.
You will receive a Delivery Confirmation Email when a sim card is sent out. Please confirm shipment status over the delivery notification email with tracking URL and code.
If you are not at home to receive the package, the delivery man will leave a piece of paper with all the contact details of the shipment company called the Absence Paper (ご不在連絡票). Please use this paper to contact to arrange a suitable re-delivery time with the shipment company in this case.
You can use it immediately after performing installations written on the instruction sheet!



If you have any difficulties, you can find answers from the

FAQ

menu on our official website or request support via

JP Smart SIM's FB

.

If you are logged out in the middle of the registration processing, you can log in again by accessing

MYPAGE: https://user.jpmob.jp/en/users/sign_in

Login ID: the email address you have registered

Password: password for your login ID
Thank you very much for selecting our service!
Hope more foreign customers will come to the JP Smart SIM family!